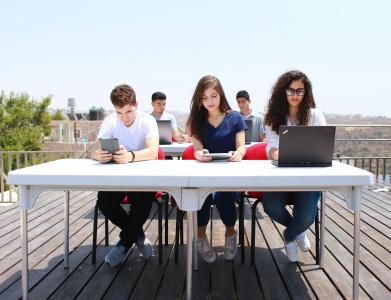 Bridge Palestine is one of Taawon's Education programs. It is a non-formal education program, which brings outstanding 10th grade students from different regions in Palestine to a unique learning experience. In a three year journey, participants are engaged with self-reliant, experimental, and investigative learning methodologies which allow them to develop their critical thinking and knowledge, creative abilities, communication and research skills, leadership potentials with high engagement with civil society.
As formal education in Palestine is facing tremendous challenges, Taawon along with committed partners and donors, have recognized the importance of creating a variety of learning environments outside the classroom for distinguished Palestinian youth, and enhancing their chances to enroll in internationally acclaimed universities.
The main aim of the program is to create a core group of students who are well rounded educationally and culturally; and to link them with scholarship foundations that offer funds to continue their higher education abroad. There are no existing programs in the country that follow such a comprehensive approach.
More emphasis is put on the personal growth of students using subjects that are correlated to the everyday life whether as to content or methodology, and with high engagement with other peers, informal educators, youth workers, mentors and counselors.
Bridge Palestine is distinctive in terms of its inclusive approach in providing direct assistance to students who would otherwise not be able to realistically consider the idea of studying abroad because of inadequate preparations, and lack of opportunities.
The wide distribution of students throughout Palestine is another significant character of the program. It defies imposed borders and society fragmentation, and provides an opportunity of the intermingling of Palestinian youth from different backgrounds and areas.